My Role
Art Director, Experiential Designer, Graphic Designer
The Needs
Revolutionary in 2016, the Museum of Ice Cream (MOIC) blew open the divide between Instagram and real life. Two years later, several other experiences have popped up, over-saturating the market and acting as glorified photo sets. Though MOIC is doing well as-is, I see an opportunity to add more concentrated interaction & content throughout their space, creating an irreplaceable in-person experience to accompany their massive online presence.
Conceptual Overview
Guests take a self-guided stroll discovering the past, present and future of the waffle cone by exploring the inspiring stories of individuals who impacted the sweet treat. This room conveys themes like pursuing ambitious dreams and pop culture enchantment, all through a classical museum setting with new school accents. The experience is rounded out through smells and tastes of the treat-of-honor, along with pleasant sounds and exciting interactions with exhibit attendants.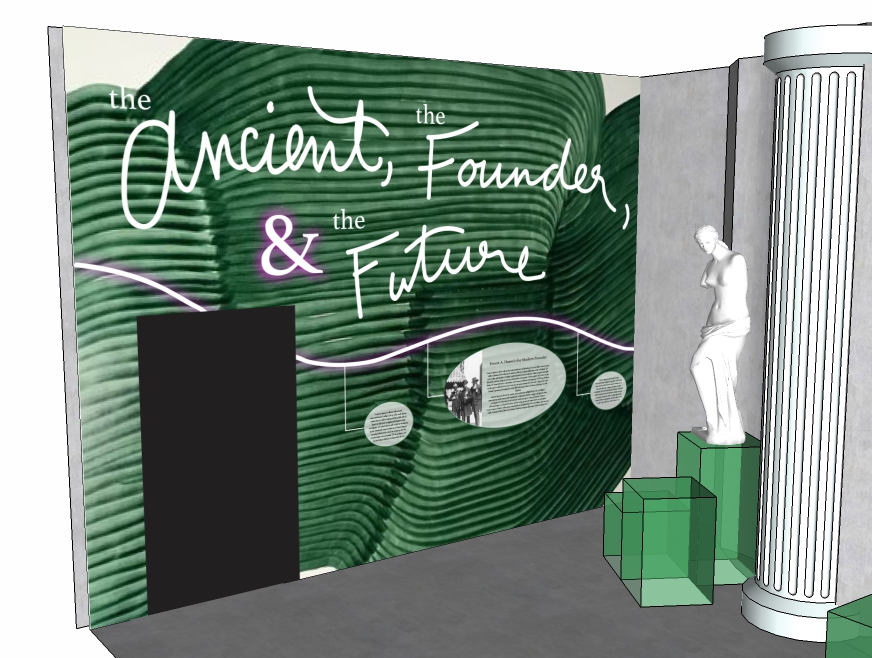 The Process
Never designing something like this before, I knew research was my place to start. I turned to YouTube to watch walkthroughs of the existing installations, and read up on founder Maryellis Bunn.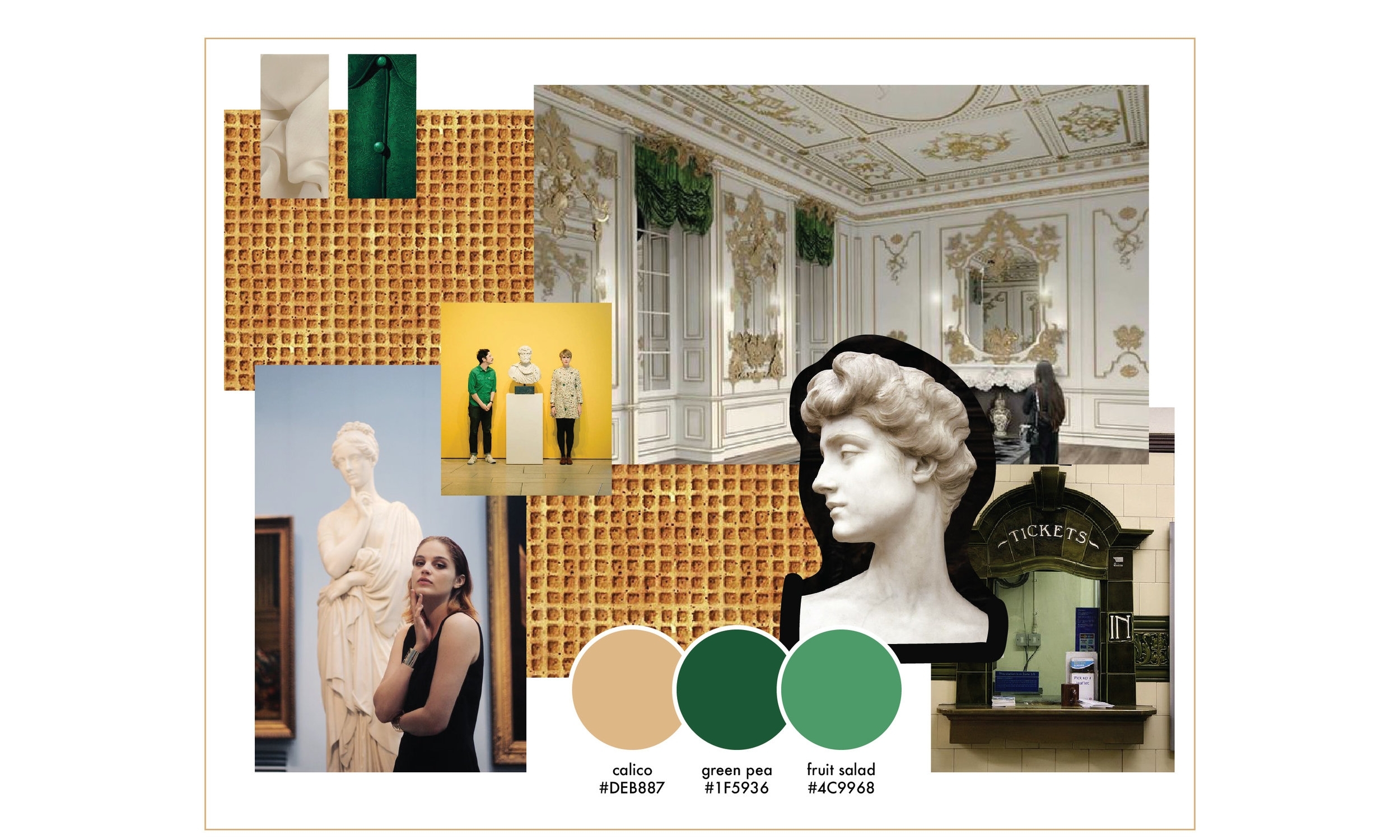 I picked the waffle cone as my subject, and started creating a moodboard– seen above. The vibe I wanted to portray in this space was:
classical & hip
Since I wanted to include deeper interaction, I brainstormed things guests could do in this room, landing on verbs: snack, read, feel, and create. Last, I knew I wanted to tell a story, so I did research on the waffle cone founder (Ernest A. Hamwi) and worked that into the room-- telling his story throughout the space, and using him as a subject of one of the stone sculptures.
From there, I designed a rough floor plan and then started working right ahead in SketchUp to get a basic 3D rendering.
Interactive Touchpoints
In this room, guests are able to:
Talk to ticket booth attendant– exchange a token from previous room for waffle cone to snack on

Read exhibit pieces and learn about Ernest A. Hamwi and the World's Fair

Take photos with each sculpture: the ancient, the founder, and the future

Contribute to the large mural– Crumple up the tissue paper from your wafflecone snack and clip it on the corresponding color on the mural to make an image with your fellow cone lovers.
Sensory Components
See - Traditional museum set design, waffle cone clad sculptures, mural

Smell - Waffle cone (vanilla/baked goods)

Feel - Cool stone of statues, ticket shaped tissue of waffle cone snack

Taste - Waffle cone sample

Hear - classical music & murmur of people
Next Steps:
If this concept were to be accepted, I would do the following:
- Gain feedback from MOIC team
- Create new insights to inform another, more detailed, iteration
- Do second iteration
- Start production